ISABEL MIQUEL ARQUÉS: THE SUCCESSFUL MOTHER AND ARTIST
Devoted mother and successful artist, we are inspired by Isabel Miquel Arqués' sense of aesthetics and art which contributed to Vascobelo's strong look and feel. Between photography, literature and paintings, her work is inspired by her surroundings. In her latest trilogy - of which the first part has been released - the Spanish artist captures dialogues with other female figures such as Karen Blixen, Virginia Woolf and Georgia O'Keeffe to take us on travels across times and borders. Discover the life of an extraordinary woman whom we are proud to count as part of the Vascobelo family.
PHILOSOPHY
Elegant and always authentic. These are the first terms that come to mind when observing the interior of our Café-Brasserie. In a nutshell, it is a space that calls for peace, harmony and mercy. This is the style of Isabel Miquel Arqués: the capacity to transform a familiar environment into a small island of appeasement. If she certainly knows how to impose her technique, especially in terms of aesthetics, it is about Vascobelo's strong look and feel that we will first talk about.
Certainly, Arqués has been primordial to our look and feel, where we tried to reflect a theme core to her work: longing. For instance, the interior of our Café-Brasserie is made with brass, leather, oak and marble because, just like her, we love the fact that natural and timeless materials age beautifully and are sustainable. When it comes to furniture, wood and leather go hand in hand. The whisky coloured leather armchair brings warmth to the room while retaining a natural side. Mixing styles with metallic bookshelves or lamps, it spices up the environment while harmonising perfectly with the natural colours of the room. Ultimately, the Spanish artist inspired us to create a cosy atmosphere where you inexplicably feel comfortable.
DISCOVER THE ART OF ISABEL MIQUEL ARQUÉS
BIOGRAPHY
Isabel Miquel Arqués is a Spanish artist currently working and living in Antwerp. After Barcelona, Amsterdam and London, she moved to Belgium to forge her own path. Averse to technically precise reproduction, she has resolutely opted for the imperfection of experimentation, paying close attention to materiality, transparency, texture and feel. In her exhibition "Agitation" at the Ingrid Deuss Gallery (2012), Arqués displayed her works on old, yellowed and torn newsprint to manifest the beauty in imperfection. The Spanish artist is also a vivid storyteller, among many other qualities, as she demonstrated in "Here Be Lions" at the Ingrid Deuss Gallery (2015), a project inspired by Toon Tellegen's Letters Sleeping Beauty.
More recently, she earned an invitation from Catherine Lefevbre to work at the Karen Blixen's Museum. Being the Danes Museum director from 2009 to 2019 and current Head of the Danish/Swedish Culture Foundation, Catherine Lefevbre has agreeably contributed to the trilogy "Beyond Borders: Isabel Miquel Arqués in dialogue with Karen Blixen" by writing the book's introduction.
READ MORE ABOUT BEYOND BORDERS
BEYOND BORDERS
Arqués visited Rungstedlund, Blixen's house, several times. She photographed Blixen's objects daily, things that made up her physical reality. At that time, Arqués imagined a parallel story that gradually intertwined with Karen Blixen's. As she photographed the carpet in the living room, her thoughts faded. She no longer saw a carpet, but a road map, a starting point, a destination, crossroads and byways, and a curriculum vitae. In other plays, she saw Blixen's travels, seas and landscapes, and the countries she had visited. The artbook was officially presented at Geukens & De Vil Gallery in Antwerp on March 20th, 2022. Beyond Borders. Isabel Miquel Arqués in dialogue with Karen Blixen is available to buy directly in bookstores and online at www.ludion.be and www.copyrightbookshop.be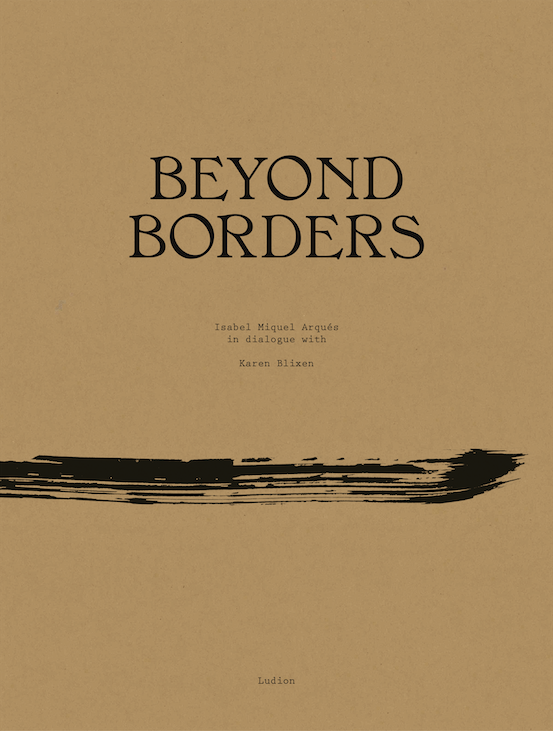 If you are interested, Isabel Miquel Arqués will be at the Art Fair Unseen in Amsterdam in September 2022 at the Ingrid Deuss Gallery.